Background:
I thought this would be entertaining to go back and look at how far we've come with the projection of a supercharged Challenger. The following was a post that started on
March 23, 2013
from another forum. Prior to the post, we had been tracking the supercharged 6.2L when it was initially hinted on
ResumeSpeed
's forum avatar just before
SEMA October 2012
. The post has been periodically updated with pieces of it spread throughout several forums, however, the updates stopped once official word of the Hellcat debuted in July 2014. Although several things have changed since speculation to production, you'll find entertaining information such as how close some predictions were as well as several things that we completely missed the mark on. One example was our projected guess that the "weakest link" would be the drivetrain and it just so happens to be the driveshaft in the production version. The part I find most entertaining was our original power projections. No one ever thought that Street and Racing Technology (SRT) would go all the way above 700, but we were tracking it as a possibility.
On a personal note, we hope to have our own family Hellcat by Fall 2015. By that time, it will approximately be 4 years for Dodge to answer the call of the Challenger "Moparian" enthusiasts to build a supercharged Challenger. My own journey began with the debut of the 2006 Concept Challenger. I had to wait until Summer 2008 to place a factory order for a 2009 Challenger 5.7L R/T after missing out on the 2008 Challenger release and prior obligations. In Spring 2009, almost 3 years since the concept car, we got our first Challenger. After several visits to the drag strip and group meets with some great Jeep SRT enthusiasts, I upgraded to a 2010 Challenger 6.1L SRT in November 2009 and then to a 2012 Challenger 392 SRT in March 2012. With the wait until the 2016 Hellcat, it will mark 10 years worth of passion for the modern Challenger since concept.
I'd like to thank
ResumeSpeed
for being there over the years for contributions. Also, a moment of silence for Bob (6SPD4ME on the other forum) who passed away right before the production Hellcat became a reality. He was always remembered for his spirited discussion on the forums.
Timeline
Fall 2012 - The famous 6.2L Hemi avatar debuts on the forums
January 2013 - Hemi Cuda discussion, however, a 426 Mopar Charger Stage 3 is released
January 2013 - January 2014 - Chrysler realigns with the corporate merge with Fiat
March 2013 - Ralph Gilles makes mention they will bring something to SpringFest 2014
Fall 2013 - Spy Shots of the Hellcat and Challenger SRT 392
March 2014 - SpringFest 9 - A Hellcat T-Shirt with the new Logo is unveiled
June-July 2014 - Internet Unveiling of the Challenger Hellcat!
Hellcat - A Historical, Speculative Perspective
In Fall 2012, it all started with a 6.2L avatar that set off discussion about a supercharged hemi engine. The Camaro ZL1 was starting its mainstream and the Ford GT500 was continuing to be "King of the Road". There was a lot of rumor about the Hemi 'Cuda replacing the Challenger, however, many of us were calling for a response to the competition from SRT for a supercharged Hemi. Ideas were swirling between naturally aspirated versus supercharged engines. The buzzword of"efficiency" was the focus of the car industry with solutions of smaller displacement, boosted engines and the death of the modern V8. Hemi 'Cuda rumors stayed in the limelight and we thought that Chrysler would announce something at Detroit NAIAS January 2013. It turned out to be an upgrade package in the form of a 426 Hemi in the Dodge Charger. Hemi 'Cuda rumors continued and could become a reality in the near future - a smaller more agile platform - but definitely not a Challenger. Things went quiet until Spring Fest 2013.
SRT had a very enthusiastic following. They took every opportunity to get out and meet the passionate owners of the modern generation car. Spring Festival in Southern California was one such place for enthusiasts to meet. It became large enough that SRT began to show up on an annual basis. Spring Fest 2013 rolled around the weekend of March 23, 2013. Ralph Gilles, CEO of SRT, attended and was quoted with the following: "...there's a BIG change for the debut of the Challenger next Spring Fest 2014. It's not going away any time soon and to expect big performance changes." ~Attendee at SpringFest 2013
In an interview on April 4, 2013, Ralph mentioned "the challenger is about to go under the knife, uh it's actually under the knife as we speak. We're doing a lot to it and we're going to come with an answer for [the Z28] and an answer for our friends at Ford. Stay tuned, this space, this time next year. You'll see exactly what I'm talking about."
Check out 14:00 min in the video.
Based on the comment made by Ralph Gilles at Spring Fest 2013, and the Motortrend Wide Open Throttle interview, the "refreshed" Challenger would be a MY2015 vehicle that would make its debut at Springfest 2014 and make an official appearance at the 2014 New York Auto Show (updated to August 2014 based on the new Chrysler 5-year plan).
A year passed by with lots of speculative discussion on the forums as well as candid photos of test vehicles. Unfortunately, the only thing that came out at SpringFest 2014 was a T-Shirt with a logo (something resembling the Thundercat logo and unbeknownst to many until later as the iconic Hellcat logo). We surely thought the New York Auto show would debut the car, however, the 2014 Viper TA took the highlight. Finally, June-July 2014, the internet blew a head gasket as the 2015 Challenger SRT Hellcat with 707HP and 650TQ was announced.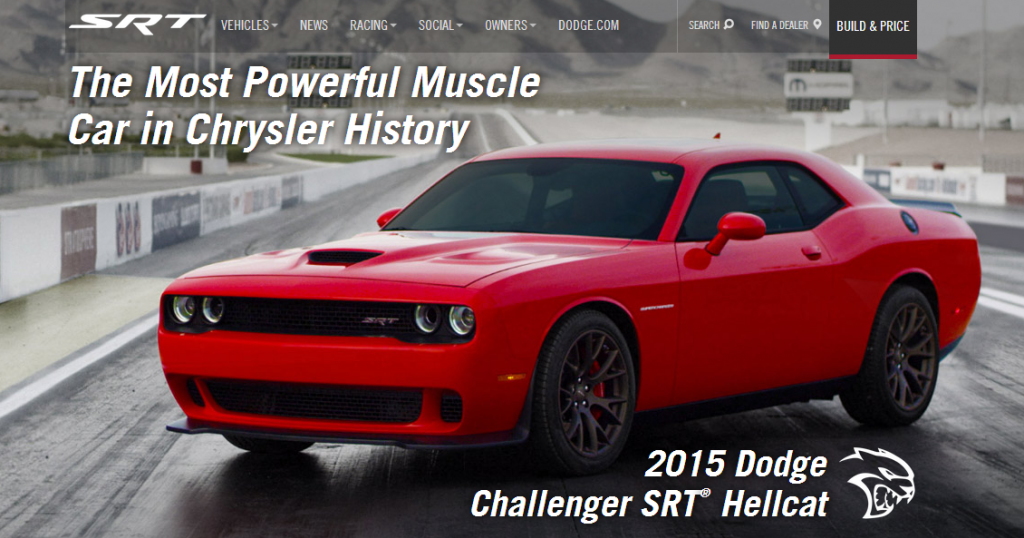 Chrysler 5-year plan
early rendering based upon inputs from early 2014

early rendering based upon forum inputs from 2013-2014
Speculative/Actual Overview
- 6.2L (376.79 cu/in) Supercharged Hemi - 600-700 HP / 600-660 lbs-ft TQ
- 500HP - Black Key
- 600+HP/575+TQ - Red Key
- 200-202mph top speed
- 6-speed TREMEC manual and 8-speed ZF automatic transmission
- 6 piston front, 4 piston rear, slotted/dual disc caliper brakes
- 20x9.5 front, 20x9.5 rear aluminum alloy rims
- Pirelli PZero Nero (All Season) - 275/40/20s
- Optional Pirelli PZero Tires (3-season Summer) - 275/40/20s
- Bilstein 3-mode Active Dampening Suspension (Normal, Sport, Track)
- 3-mode Traction Control (On, Partial Off, Full Off)
- 4339 lbs (auto) / 4349 (manual)
- Halo lights, rear split LED, no fog lights, new hood, revised aerodynamics
- New interior (8.4" console screen, 7" digital gauge cluster, new seats, new door panels)
- Upgraded drivetrain (differential, axles, driveshaft)
Name
Dodge Challenger SRT with optional "Hellcat" package.
Gilles Says, "We'll see (an) ACR [American Club Racing] edition! - Dodge Challenger Forum: Challenger & SRT8 Forums
Engine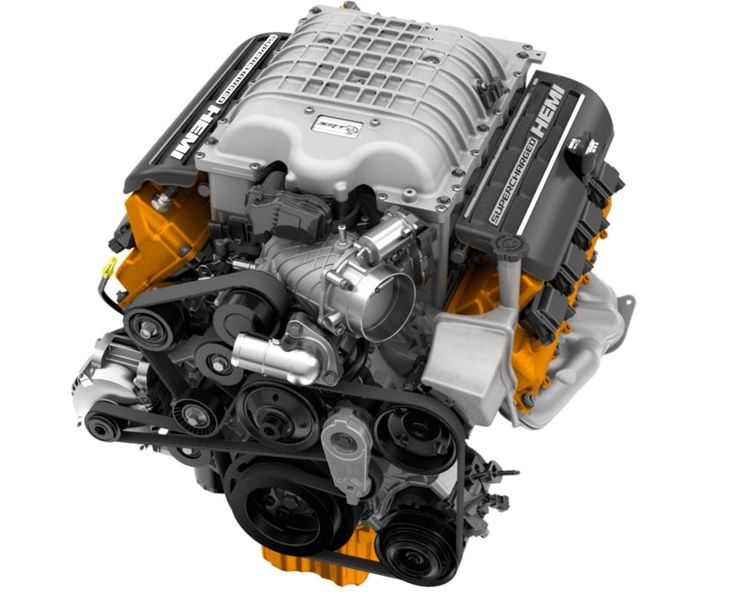 6.2L (376-385 cu/in) Supercharged Hemi - 6.2L (376.79 cu/in) Supercharged Hemi - 600-700 HP / 600-660 lbs-ft TQ (9-12psi)
- iron block (4.09 bore x 3.58 stroke)
- 2380cc twin screw supercharger
- hot-forged pistons and connecting rods
- forged crankshaft
- clutched pulley
So going over some calculated, very rough #'s. Peak HP at 6,000rpms, peak TQ around 3,500-3,800rpms
571hp/541tq - 5-6psi
583hp/552tq - 6psi
594hp/564tq - 6-7psi
606hp/576tq - 7 psi (May 20, 2014 initial #'s; 600+hp/575+tq)
618hp/588tq - 7-8psi
629hp/599tq - 8psi
641hp/611tq - 8-9psi (current durability limit of the 6-speed TREMEC; 600lbs/ft tq)
652hp/623tq - 9psi
664hp/635tq - 9-10psi (possible target #'s; 9.5psi)
675hp/646tq - 10psi
687hp/658tq - 10-11psi
698hp/670tq - 11psi (8HP90 transmission durability limit; 663lbs/ft tq)
710hp/681tq - 11-11.6psi (8HP90 transmission durability limit; 663lbs/ft tq)
Comparable rough outputs of similar engines with boost:
392 (6.4L) with 6psi Magnacharger - 625HP / 580TQ
392 (6.4L) with 7psi Mangacharger - 660HP / 587TQ
6.1L with 8psi Magnacharger - 605HP / 570TQ
6.2L ZL1 with 10-12psi - 630HP / 630TQ - 650HP / 650TQ (injectors and harmonic balancer)
Transmissions
6-speed TREMEC TR-6060 manual transmission - torque input of 600 lb-ft / 814nm
8-speed ZF 8HP90 automatic transmission - torque input of 664 lb-ft / 900nm
Chrysler ramps up in Kokomo - Kokomo Tribune Local News
- January 2013 Kokomo Plant Production, replaces the 5-speed NAG1
The new ZF 8-speed Automatic Transmission has 5 dedicated shift mods. Auto Normal, Auto Sport, Manual Normal, Manual Sport and Extreme Weather. In "M" Manual-mode, the driver can change gears by either Steering Wheel/Column "Paddle Shifters" or use the Trans lever.
The max output of the 6.2L will be limited by it's weakest link; the drivetrain and how much torque it can handle. The weakest links are the transmission, driveshaft and rear axles. The transmission torque input rating is the recommended safe limit of torque input based upon long term durability testing.
The new hellcat engine cannot exceed 600 lbs-ft torque / 814nm (the current TREMEC 6-speed input torque rating) unless the TREMEC gets beefed up.
Suspension/Handling
*New Steering* - electric system (knowledge/parts sharing from the Maserati vehicles)
Launch Control System (2013+ Challenger SRT8)
3-mode Adaptive Dampening Suspension - Auto, Sport, Track (2012+ Challenger SRT8)
3-mode Traction Control System - On, Partial, Off (2008+ Challenger SRT8)
We will more than likely see the same Bilstein Adaptive Damping Suspension used in the SRT lineup, however, see a revision to adaptive suspension programming.
Brakes
6 piston front Brembo dual cast/vented/slotted rotors; 4 piston rear Brembo dual disc, slotted brakes
A few thoughts from the SRT Chat Session on 3/12/2013 regarding brakes, "Why use four piston Brembo's and not six piston?
It's a balance between vehicle mass, acceleration and adhesion utilization. We size the brakes for fade performance, lining wear and stopping distance. A six piston caliper with the same effective piston area will only provide
lower pad temps not improved stopping distance
. If your looking for improved fade performance this will help but the stopping capability is the same.....ultimately you'll be skid limited either way."
As seen in the Test Mule concept, the rotors are slotted and the front brakes have 6 piston calipers. The benefit here is improved cooling from the dual disc rotors and 6 vs 4 piston calipers.
Aerodynamics/Exterior
The front fascia has been shown to be redesigned. This is likely for engine testing/airflow improvements for cooling the supercharged engine. Also, as mentioned earlier by Ralph, with the Fiat / Chrysler merger, they have accessibility to better aerodynamic simulation tools. Expect to see functional improvements in the new front fascia design.
Lessons learned from the competition: the ZL1 uses a hood extractor that is directly molded behind the radiator and allows air to pass directly out of the engine bay. Also, the use of a larger lower opening for the radiator, essentially air entering in the radiator from down low to the ground and exiting up high through the hood. Other aero improvements could come from the lessons learned on the SRT10 concept car and the front chin spoiler/splitter. Also, a possibility to incorporate the active grille technology to improve efficiency.
The expected changes are halo front lights with a redesigned front fascia (styling cues from the 1971 split grille Challenger), changes to the front fenders and rear quarter panels (larger rear to support the wider rear tire), changes to the rear fascia (possible incorporation of a rear diffuser), LED rear tail lamps (1971 cues with the split rear taillights).
Another possibility is an exterior carbon fiber upgrade aero package (think Viper T/A package).
Wheels/Tires
Pirelli P-Zero will replace the outgoing Goodyear F1 Supercar tires (as seen on the test mules).
Options on the rims include:
275/40/20, 20x9.5 all around
Interior
A major refresh to the interior is expected and you will probably see an update to this area due to part sharing to reduce overall business costs. The 4-bomb guage cluster will be refreshed with the new 7" TFT gauge screen currently being used in the Dart. The interior will also likely include the 8.4" screen with SRT performance pages incorporated along with dual climate control features, UConnect Access, backup camera, Sirius Radio, etc. Also, the interior door panels are to be refreshed and we'll probably expect the Radar Red, Sephia interiors and more "plush" alcantara interior
Alcantara materiale per interni auto e interior design
- Alcantara® extraordinary every day. The door panels and seats have been mentioned to be redone. Also, carbon fiber accents might become an additional package similar to what the Viper offers as a carbon fiber package.
Weight
The following is a weight comparison chart. Disregard the Laguna Seca track times (good info though). One of the key challenges for Challenger is reducing weight as it has more of an impact on the vehicle as a whole (suspension etc). The less lbs per HP/TQ required, the better it is for the vehicle. As far as how to reduce this weight, some of the largest benefits would come with a reduction in chassis weight (aluminum parts) and use of lighter weight parts (lighter seats). Currently the 2012 Challenger SRT weighs 4160lbs and the new chassis should provide, at least, a 150lb reduction. It all becomes a balancing act as we factor back in the weight of the new engine with supercharger. We can expect the curb weight to be slightly less, but relatively the same as the current platform.
Chassis
There are several chassis scheduled to get the 6.2L. Of note, the ones we are concerned with are LA (Challenger H), LC (Challenger), LD (Charger), and LX (300).
Being a MY2015 vehicle, the refreshed Challenger SRT will be an overhaul of the interior, front and rear exterior on the improved LA platform (it is believed this will also be the same chassis used for the Maserati GT). This would allow for the weight reduction due to use of more aluminum, new wiring architecture as well as the acceptance of the new 8-speed transmission.
The chassis is based around an aluminum casting with a reinforced cross-shrut. Which helps deliver outstanding rigidity in all directions. While the rear suspension of the chassis is made of Rolled Steel using a 5-link multi setup.
The rear diff will have a 2-piece 80mm third lightweight steel drop (Drivehafts) with 2-constant velocity joints and a Rubber Coupling. Ultra lightweight Magnesium will be used in some areas.
A Limited-Slip differential will use a mechanical unit similar to the present one.
In tribute to 6SPD4ME (rest in peace)-
The Way Ahead...
posted May 2015
Challenger is geared toward efficiency, performance, and technology improvements as there is not much more to modify with the vehicle without it becoming something completely different. Each year, Challenger adds something progressively better in these three areas. There might be additional technology such as OLED driver screens and too many driver nanny technologies to list coming in the future, however, 2015-2017 will be very good years for Challenger just as the introduction of the 392 was in 2011-2012. The refresh for 2018+ will be an awesome vehicle (more than likely a 6 or 4 cylinder turbo), however, it won't be a Challenger. The heritage will hopefully be retained (unlike how Dart is a hit but retains no heritage) as the rumors of "fish" continue to swirl.
Challenger might be just another costly performance car, however, it's one of the only vehicles that still retains heritage (or as Lamborghini describes their cars; a car that retains its DNA). This makes a vehicle more than just a car; but rather a living, breathing extension of human passion. If done correctly, it could become just as iconic as the ZL1, Z/28 and GT500s of our time; or to put it in other words - a modern legend.