Discussion Starter
·
#1
·
Hello and thanks for welcoming me into the Hellcat community! Last year I bought a 2021 SRT Hellcat and have put about 6500 miles on her so far! The fastest car I drove before the Hellcat was a Chevy Malibu and I must say I've fallen in love with the speed and excitement of a 717 HP vehicle!
She is 100% stock except for cosmetic changes - I've changed the badge colors and put some matte black / red vinyl stripes on her. Since she's my daily driver, I don't really intend to do many mods except for cosmetic - I have one of those extended warranties and don't want to void it in case something goes wrong... To be honest, she is so fast and fun I don't see needing more HP unless I decide to start racing.
However, I wish I would have done more research in some options before buying. I definitely do not like the cloth seats that come standard and I found these awesome red alcantera / black leather seats on ebay from a wrecked '17. The seller assured me they would fit in my '21, but I want to make sure I'm not overlooking anything. My current seats are heated and the passenger seat has a lever underneath to slide the seat forward and back. I just want to make sure the seats are 100% interchangeable - same with the door panels. Loving that red alcantera, and since I'm going with a red / black theme I think it will look really good on the interior.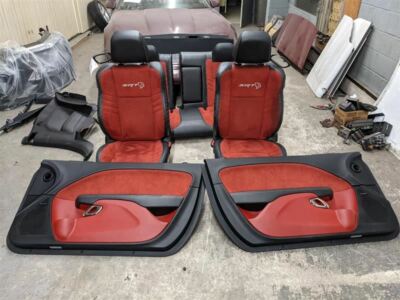 SEATS ARE REMOVED FROM A 2017 DODGE CHALLENGER SRT HELLCAT WITH 24K MILES, INCLUDED ARE THE FRONT AND BACK SEATS BOTHS FRONT DOOR PANELS AND BOTH REAR QUARTER TRIMS. THE DRIVER AND PASSENGER FEMALE SEAT BELT BUCKLES ARE NOT INCLUDED OUR PARTS ARE IN GOOD USED CONDITION BUT MAY HAVE KNICKS...
The seller assured me it would be compatible with my 2021 SRT Hellcat wide body, but I am worried it may not be. How can I be sure if it is / is not compatible? Ebay's little compatibility feature said they were NOT compatible, but the seller said they were.
Additionally - the regular, all black cloth seats are what came with the vehicle. How hard are they to sell? What is a fair value for them? Should I list them on e-bay or elsewhere?
These are the diffusers / splitters I bought
Shop for Vicrez Centa VR2 Rear Diffuser vz102171| Dodge Challenger 2008-2023 here at Vicrez.com. We offer free shipping on all orders over $75.
www.vicrez.com
Black with red trim
Shop for Vicrez VZW Front Bumper Lip Splitter vz101847 | Dodge Challenger Widebody 2015-2023 here at Vicrez. We offer free shipping on all orders over $75.
www.vicrez.com
Black with red trim, silver rods
Shop for Vicrez VZ Style Side Skirt Splitter vz100662 | Dodge Challenger 2015-2023 here at Vicrez. We offer free shipping on all orders over $75.
www.vicrez.com
Black with red trim
I think this will all look great, but are there any other recommended cosmetic additions to a stock challenger? What other cool things could I do to make it look more menacing?
Lastly, are exhaust tips worth it? I bet the exhaust will look a little strange with that rear diffuser and exhaust tips were an option when purchasing one. What do yall think?
Any advice / recommendations are appreciated!!