The day has finally arrived!
I realize that my wait wasn't as long as some of you and, while I couldn't be happier my 'Cat has arrived after 105 days of waiting, I can't help but feel bad for those of you still left in the trenches for your number to be called. Before starting my initial impressions and review, I wanted to start by acknowledging those that are still in limbo, still checking the forum each day for a glimmer of ResumeSpeedy type news... YOUR DAY WILL COME (to those with a VIN at least) and IT WILL BE GLORIOUS!
Don't lose hope! Don't buy a Vette! WAIT for this car and do WHATEVER it takes to make it happen! That being said, I cannot describe how quickly the allure of the "Breaking News" thread completely dropped away today (if anything, checking that thread now just reminds me of anxiety and stress... LOL)
Anyway, on to
my
story... I hope you're sitting down!
I received a phone call from my salesperson at 10:29am this morning to say "THE TRUCK JUST PULLED UP! GET DOWN HERE!!!" - I FLEW to the dealership in my trusty orange 392 and arrived JUST in time! My car was one of TWO Hellcats being unloaded from the car carrier; 1 sublime Challenger (mine) and 1 red Charger (unsold?)
The Charger was said to be a stock order and it did not have a name on the window sticker. As it would turn out, mere minutes after arrival a salesperson came running outside and declared that the Charger was scooped up via phone call from a buyer in eastern Canada. It would later be shipped out to its new home later that day.
The truck driver backed my Challenger off the truck EVER so slowly and it did not scrape or anything. As soon as all four tires were on the pavement, he turned to me and said "here, it's your car, I'll bet YOU would like to drive it over to the parking lot!" (it was being unloaded on the road out front).
Obviously, I jumped at the chance and sat behind the wheel for the very first time in my dirty, un-prepped Hellcat but still couldn't be more elated!
Let me tell ya; this car drew a CROWD!!! From the second that truck pulled up, a group of approx. 10+ people appeared as if from NOWHERE, whipped out camera phones and started taking pictures and videos. When they found out I was the lucky owner, I was grilled with questions left and right (and pestered with tired old quips about how "they would gladly take the car off my hands" or "do you need a personal driver?"
The envy in the air was palpable, as though the 'sublime green' was somehow manifesting itself in the physical universe as pure jealousy! I just felt honoured to be receiving such a GIFT! I can tell you that at first sight, you understand how fitting the name "sublime" is for this paint job as that is the best way to describe what you're feeling just standing there looking at this work of art!
Next stop, PDI. The vehicle had a grand total of three (3) KM on the odometer - PERFECT! I was there every step of the way and was the only one to drive it. The dealership was a pretty good sport and let me and my salesperson take the car for her first fill-up (premium dude, PREMIUUUUMMM!!!)
I checked the car over as closely as I could and after giving it the Ironside seal of awesome-tastical-icity, I released her for her first bath! No ugly paint globs, weird panel issues or anything that I could detect; SHE'S PERFECT!
Finally, a bit later in the day after returning from lunch, filling out paperwork and what-not, the time had come! I took the following images to capture the sad hand off of my beloved 392, into the consoling arms (bucket seats?) of my new love... the 2015 Challenger SRT Hellcat!
A bunch of family members showed up to see the new arrival, my Dad bringing his SRT Jeep and my mom bringing her SRT Charger - many would comment that we turned a simple delivery into what looked like a car show!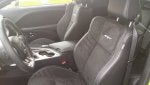 To my dad, this day was particularly sweet because his first car he ever owned was a 1970 Challenger R/T 440 six-pack in sublime; seeing this beauty 45 years later brought back some awesome memories.
TO BE CONTINUED: