Discussion Starter
·
#1
·
Not much I want to upgrade or change on the Hellcat but I've always been a bit disappointed on the looks from the back as in my view it has not matched the performance. In the front you got the aggressive hood-scopes but in the back there is not much, and no stylish diffuser.... maybe they forgot the back as they were so excited with the engine?! Considering the rear is what most people will see I wanted to fix it, and now it's done!
We all got different taste but I hope some of you like it or can use it as inspiration! I think it finally looks par with the performance of the car!
As many of you I've looked for the Ikon diffuser but since they hardly ever are in stock and all of sudden jumped in price for the short while they were available I started looking elsewhere. Towards Dubai and Abaza Carbon. I really like their styling and managed to get my hands on a custom diffuser (not in carbon) from Abaza made for a quad setup!
After this I learnt that it is not easy to find quad tips short enough to enable me to keep the stock rear resonators, as you can see in the images there is less than 200mm (7-8") from the clamp to the end of the tip. Most tips are 10" long which would require e.g. bullets.
I then had to decide if I shall get 3,5" or 4" tips - the kids Vuvuzela's came handy to mock it up!
4" it is!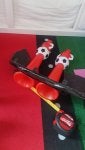 After a lot of searching I found a set on ebay.com that are just 9" incl. almost 1,5" of flange, full set for $79. The option was to have them custom made for $400, i.e. worth a test!
Now the fun start, I need help to do the actual job. Did a lot of research of the Toronto area and turned to "Hot Rod Scott's" and Corey Anderson who took it on and did in my eyes an excellent job!
Cutting, adjusting, welding.... and voila! The Beast finally look like it should! I love the looks, what do you think?
and a last one...