Purchased the much needed rock guards, front & rear from ZL1. They are well made, and easy to install. The only tool you will need is a 7mm wrench/socket with enough room to clear the front tire. Also a rag to clean, and maybe some rubbing alcohol.
Here is a pic of the front and rear guards:
1. Remove rocker guard bolts with 7mm wrench:
2. Pull gently to pop these tabs. Note you must push as you pull a little due to the middle tab. Take your time with this, or you will tear the wheel well plastic.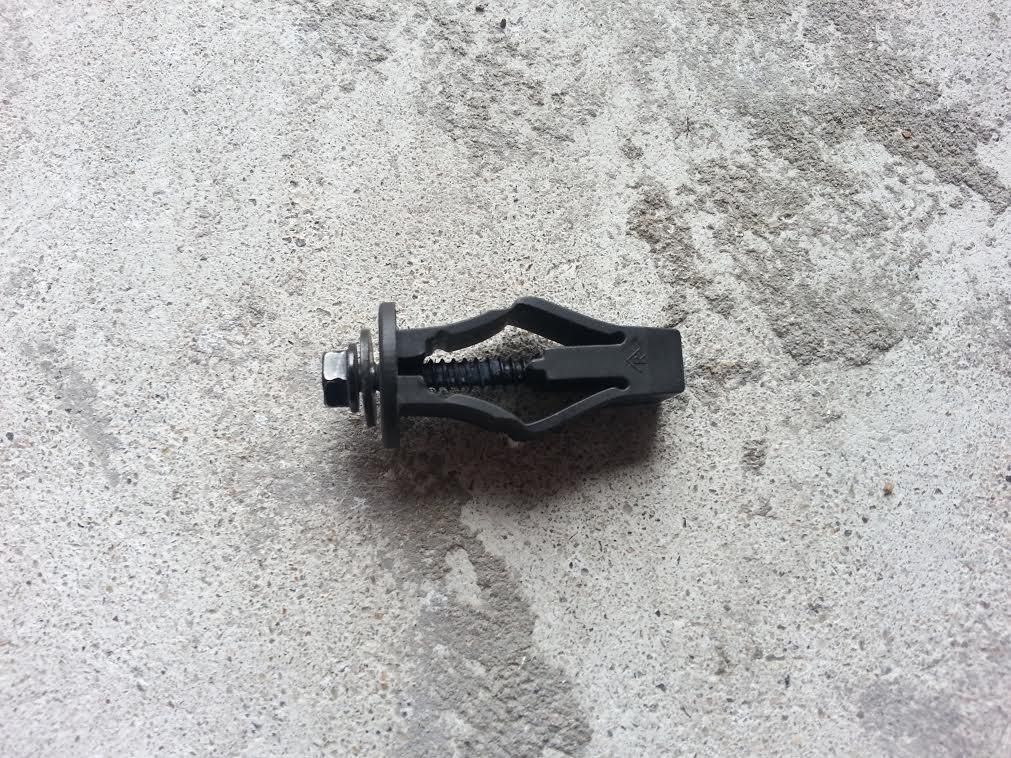 3. Clean the area, especially the fender lip to remove all debris and wax, finish up with a few swipes of a rubbing alcohol to allow the 3m tape good purchase.
4. "Start" the top of the 3M tape strip but DO NOT REMOVE YET; just make it so it is easy to pull off later. All you are doing is getting it ready to remove, once the guard is installed. You will thank me later for this.
5. Comparison shot:
6. Examine this picture:
Note, the top bolt goes on the outside of the guard, and the lower bolt the inside. I found it a bit easier to have the bolts already pre-set in the guard making it easier to squeeze into the fender. YMMV. You may have to pinch the plastic wings as they want to bow during insertion, preventing you from getting them in the fender/rocker.
A reminder of what I am speaking of: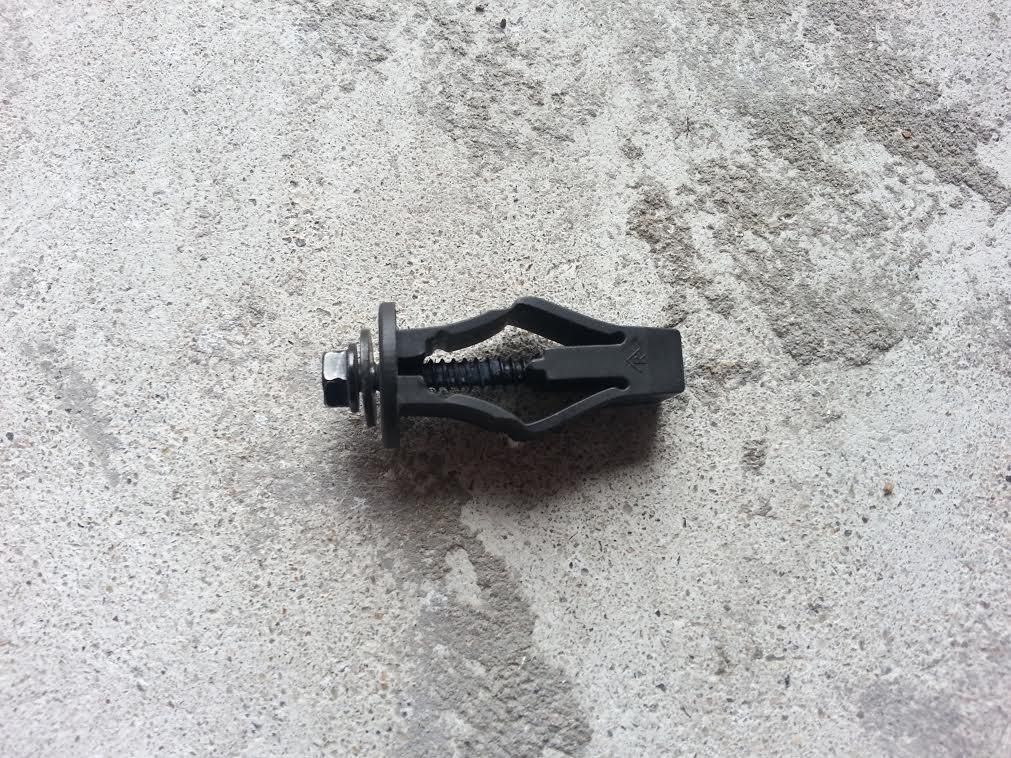 Once in, proceed to cautiously tighten. I found the beast of the bunch the lower screws, and you may find that you will have to get a digit into the fender rocker area, to apply pressure *behind* the clip to ensure the threads grip as you tighten, and it does not spin while you tighten.
This may be no small task depending on your big, ruffian, ham hands, and it was required for me on both sides and you DO NOT want to strip this little plastic bugger.
Get them on firmly, and there may be some play (I did not want to risk over tightening them) but it should hold securely.
Once in place, line them up on the fender, the top edge just to the limits of the outer part of the fender (I wanted as much tape to pain as possible). Get it exactly where you want, as you will really only get one good shot at this due to the mad-sticky tape.
Give one or two more turns to tighten, check alignment again, and pull the top of the guard back, and begin the removal of the 3m red tape shield. The 3m is potent, so once it hits metal-it is on it.
Once clear, press it firmly where you want it, and hold for a few seconds, and rub along the edge to ensure a solid tape to paint connection.
You are done:
The job with this guide is really a sub-10 minute piece. It took me maybe 25 minutes due to having to find the right wrench, not being sure what would do what and how it went there, etc.
To be 100%, I think you are
madman
if you don't purchase these and install them, your car's flanks will be tore up and look like a bird shot blast from a shotgun in a year. The front summer tires pick up, and throw everything-and guess where a bulk of the debris is going (I already have a chunk of the clearbra with a rock divot in it because these had not been installed yet-look to the bottom right door clear bra line-the dark spot-easy to see because the car has a film of south Texas dirt on it).
The guards are subtle and not "4x4" as well.
Looking forward to installing the back ones now.
-------------------------------------------------------------------------------------------------------
May 2018 UPDATE:
After 3+ years, I still enjoy the look of the ZL1s and would never add the mudflaps.
To me, they stick out far too much-but I also have a clear bra along the high throw areas to back it up. Bottom line though, these "bikini" flaps are almost invisible, but do a great job for stock size tires and lowered (which keeps more wheel debris in the well).
They have also survived multiple trips over 180 miles per hour at the Texas Mile.
My only recent issue was going over a speed bump I had no choice but to navigate. As the front wheel crested downward I head a crunch, and thought I had bottomed out. Instead, it was the front guard that dragged just enough to snap a portion off.
I will be ordering a replacement, and feel this is in no way a negative finding on the ZL1's. As always, YMMV...